Nursing Home Abuse & Neglect
Nursing Home Abuse and Neglect Lawyers in Columbia, Missouri
Nursing home abuse and neglect is a serious and expanding problem in our country. At Harper, Evans, Wade & Netemeyer, our Columbia nursing home attorneys work diligently to protect the rights of the elderly. If you feel that your loved one is being abused or neglected or is otherwise not receiving the level of care that he or she deserves, it is important that you consult with a skilled Missouri nursing home attorney.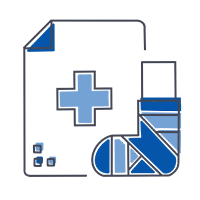 Hire an Experienced Abuse And Neglect Lawyer
Every year, there are over 1 million residents of nursing homes that suffer abuse and neglect. When not attended to, this abuse can sometimes mean death. By obtaining the services of the skilled lawyers at Harper, Evans, Wade & Netemeyer, you may be able to obtain significant monetary compensation for such neglect and abuse.
Our Missouri nursing home lawyers will diligently investigate whether the nursing home facility is indeed negligent or guilty of abuse, building a strong case and gathering evidence to support your allegations in court. Call us today at 573-442-1660.
Signs Of Nursing Home Abuse And Neglect
When we leave a loved one in the care of a nursing home, we assume he or she will receive loving professional care and concern. We often take for granted that this is what a nursing home is providing our loved one until something suggests otherwise. Some of the signs that nursing home abuse and neglect might be happening can include:
Bedsores

Unexplained fractures

Malnutrition

Dehydration

Bruises and other injuries

Falls

Improper use of restraints

Lost appetite

Fear or withdrawal
Within a nursing home setting, various types of harm can be inflicted on residents. They may be subjected to physical, emotional or sexual abuse. Residents may be neglected and left without the care they require and deserve. Issues also arise involving nursing homes taking advantage of residents or their family financially.
Obtain Guidance From An Experienced Nursing Home Abuse Lawyer
If you suspect that an elderly loved one is suffering from nursing home abuse and neglect, you deserve a knowledgeable, aggressive Missouri nursing home attorney who will not only ensure that you get sound legal advice, but also take the steps to protect your legal rights and secure just compensation.
Call Harper, Evans, Wade & Netemeyer to Make a Nursing Home Abuse and Neglect Claim
At Harper, Evans, Wade & Netemeyer, your rights will be protected. You can count on our 100 years of combined experience to help you get the results you need. Contact our Columbia nursing home abuse and neglect attorneys at 573-442-1660 to schedule a consultation.
Think You May Have A Case?
Request A Case Evaluation